SOURCE: Kandi Technologies, Corp.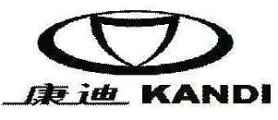 Apr 04, 2011 13:30 ET
JINHUA, CHINA--(Marketwire - April 4, 2011) - Kandi Technologies, Corp. (NASDAQ:
KNDI
), a leading Chinese exporter of off-road vehicles and developer of pure
Electric Vehicles (EV)
such as the "COCO" announced the official unveiling of the Kandi KD5011 at a grand opening ceremony for Hangzhou's first New Energy Vehicle Showroom (held on March 29
th
) in
Hangzhou City
. The KD 5011 is a Chinese government-approved, environmentally friendly and lithium-ion-powered pure Electric Vehicle.
More than twenty Hangzhou municipal party committee representatives and city government officials, including the Vice Mayor of Hangzhou Shen Jian, attended the ceremony. Xiaoming Hu, CEO and Chairman of the Board of Kandi Technologies, also attended the unveiling ceremony, which not only serves as a dedicated EV commercial and distribution center in Hangzhou, but further emphasizes the city's eco-conscious philosophy.
"Hangzhou remains one of
China
's major pilot cities for new energy vehicles and continues its ambitious EV commercialization plans to have more than 23,000 EVs on the city's streets by the end of 2012. Hangzhou's commitment to the widespread adoption of
pure EV
technology has allowed Kandi Technologies, and its strategic partners, a tremendous opportunity to expand their pure Electric Vehicle offerings to the city's commuters," commented Mr. Hu. "We are delighted with the expressions of interest we received from consumers at the grand opening ceremony regarding Kandi's newest EV model. This marks the first major step towards commercializing our lithium-ion EV in Hangzhou."
The municipal city of Hangzhou, located less than 130 km (80 miles) from Kandi Technologies' Jinhua headquarters and production facility, remains focused on its plan to build infrastructure to support EV usage. According to the completed "Hangzhou Electric Vehicle Charging Station Site Construction Planning," the city government of Hangzhou plans to complete four charging stations, 38 express change stations, and 3,500 charging poles to bring Hangzhou one step closer to realizing its plan to have more than 20,000 new energy vehicles for consumers and 3,000 vehicles for business use on the city's streets before the end of 2012.
The new model KD5011 EV -- which has a retail price of
RMB
89,800 and is approved for a national subsidy of RMB 60,000, for a net cost of just RMB 29,800 (approximately $4,600 US) - provides average consumers with a low-cost, eco-friendly alternative for urban transportation. The lithium-ion KD5011 EV improves upon existing EV technologies by allowing consumers to travel up to 230 km (150 miles) on a single charge. This exciting new product further expands the Company's current EV product portfolio and will help achieve Hangzhou's aggressive plan for EV adoption and use.
About Kandi Technologies, Corp.

Kandi Technologies, Corp. (NASDAQ:
KNDI
) is a manufacturer and exporter of a variety of vehicles in China, making it a world leader in the production of popular off-road vehicles (ORVs). It also ranks among the leading manufacturers in China of all-terrain vehicles (
ATVs
), specialized utility vehicles (UTVs), and a recently introduced second-generation high mileage, two-seat three-wheeled motorcycle. Another major company focus has been on the manufacture and sale of the COCO, a highly economical, beautifully designed, all-electric super mini-car for neighborhood driving and commuting. The convertible and hardtop models of the COCO electric vehicle (EV) are available in the United States and other countries, while the Chinese government has approved the sale of Kandi EVs in China since 2010. The Company's products can be viewed at
http://www.kandivehicle.com
and its corporate website is
http://www.chinakandi.com
.